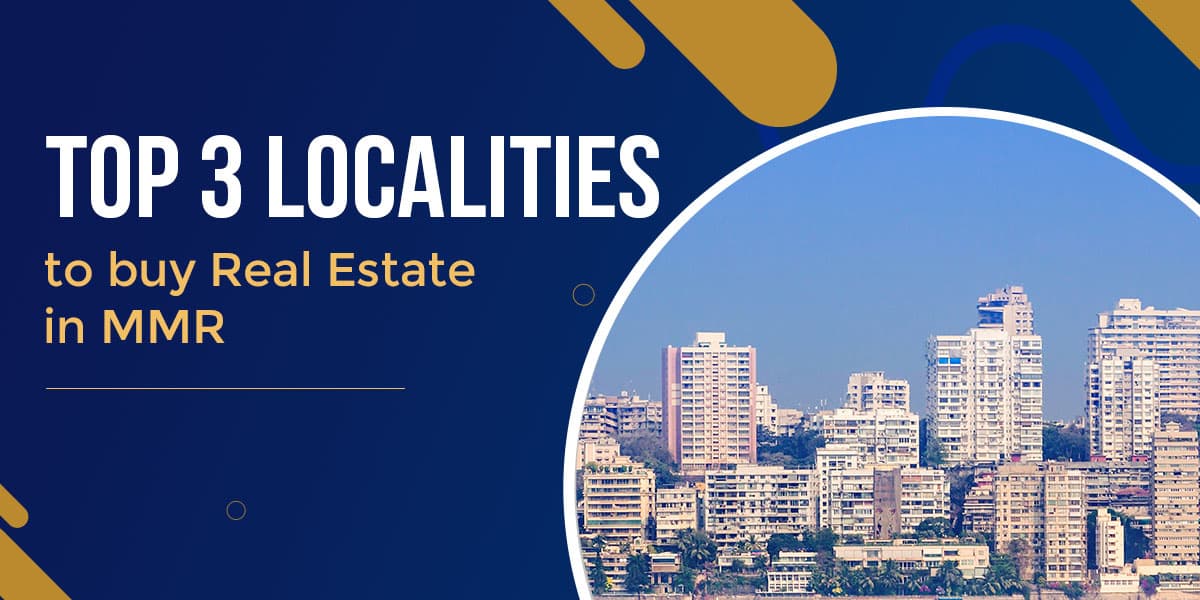 Real Estate Scenario in Nashik
Referred to as the City of dreams and the nation's financial centre, MMR is home to some of the costliest real estate properties in India. Real estate properties in Mumbai have been increasing for a while, and since 2022 things have only gotten better. Most homes in this region are ideal real estate investments and their value is only expected to rise. Below are the top three places to invest in Mumbai!
THANE
Home-buyers have been increasingly looking for affordable homes and have been moving to multiple developing areas of Thane. Along with Mumbai, Thane is connected to several other cities, including Kalyan, Bhiwandi, Vasai-Virar, and Mira Road. It has one of India's best transportation systems, including roadways, railway and metro lines. Thane has two upscale neighbourhoods: Ghodbunder Road, Majiwada, and Pokhran road 1 & 2. These areas are hubs to several corporate offices, shopping & entertainment centres, and other services, attracting job seekers, and multinational corporations.
Although Thane's real estate costs are considerable, they are not as costly as those in Mumbai.
We all know that Thane has gained prominence as a result of its role as a transportation hub for the nearby suburbs' Central and Trans-Harbour railroads. Infrastructure in Thane has seen an increase in the past 10 years. Residential development has increased as a result of the growing commercial demand. The construction of Metro 4 (Wadala-Thane-Kasarvadavali) and Metro 10 (Gaimukh-Shivaji Chowk) by MMRDA will increase the demand for real estate in Thane and raise the price per square foot. Due to its excellent accessibility, 1 BHK Flats in Thane has long been a favoured choice among buyers and major builders. Buy your next 1BHK from Ashar, one of the best builders in Thane.
BANDRA
Bandra West is known as the "Queen of the Suburbs," and is one of Mumbai's best neighbourhoods and sought-after locations for investing in residential real estate. There is a fair balance of contemporary homes and old-world elegance. Bandra is the place to be, with stunning residences from the Portuguese era, antique cottages, and multi-story luxury apartments in Bandra giving the best amenities.
 Few years ago, Bandra experienced a spike in real estate prices. Old, outmoded buildings have been converted by developers into brand-new, opulent multi-storey residences with a variety of contemporary conveniences. The address of Bandra is itself quite a blessing. 
The start of the western suburbs is Bandra and is well connected to the rest of the city. With the Bandra-Worli Sea Link connecting South Mumbai to the northern and eastern parts of the city, and the Western Express Highway (WEH) connecting Bandra to Santa Cruz-Chembur Link Road (SCLR), it has eased connectivity. Metro Line 3, The Bullet Train, and the Coastal Road are examples of upcoming infrastructure.
The advantage of Bandra's location is that it is close to commercial centres like BKC and Santa Cruz, as well as having additional access to Thane and Navi Mumbai through local trains and WEH. While having the most expensive real estate In Mumbai, the location is perfect from an investment standpoint when it comes to purchasing real estate. 
GHATKOPAR
Over time, Ghatkopar has become one of Mumbai's most in-demand neighbourhoods. The cause of this is linked to a wave of infrastructure improvements that have caused a sharp increase in the demand for housing in the area. The Mumbai Metro has also eased commute in the area. 
The area is close to the Eastern Express Highway and has good access to roads and railways. While the distance to the airport is only seven kilometres, it is 20 kilometres to the Chhatrapati Shivaji Railway Terminus. Ghatkopar West is close to the urbanised neighbourhoods of Santacruz, Khar, and Juhu and has easy access to Thane. Various public transport facilities have eased access to these locations. Along with these advantages, the neighbourhood also has convenient access to other areas of Mumbai via Lal Bahadur Shastri Road (LBS), Tilak Road, and Mahatma Gandhi Road. The Sion-Panvel Highway connects Navi Mumbai and Ghatkopar West. In addition, the neighbourhood has a metro connection to Andheri in Mumbai. The metro station next to the route makes accessing the Western Expressway Highway easier.
The social and governmental infrastructure in Ghatkopar is excellent. In the area, there are numerous reputable schools, institutions, and medical facilities. The site is undoubtedly one of the best options for real estate investments with a strong rental yield. The forthcoming Colaba-Bandra-SEEPZ metro would enhance Ghatkopar's infrastructure even further and will also enhance the value of each upcoming porperty in Ghatkopar. Improving the area's connectivity to Churchgate will raise property values along the nearby corridors. Along with having solid infrastructure and connections, the area has seen a consistent YoY increase in property values. Ghatkopar may be the best option to invest in a region that gives real estate a strong rate of capital growth.
With the recovery of the Indian economy post the pandemic, real estate has been skyrocketing. However there is no doubt that MMR remains the dream for many home-buyers and investors. From premium bungalows to affordable apartments, the city has a lot to offer. Now is the right time to invest in these profitable realty areas for the long-term.