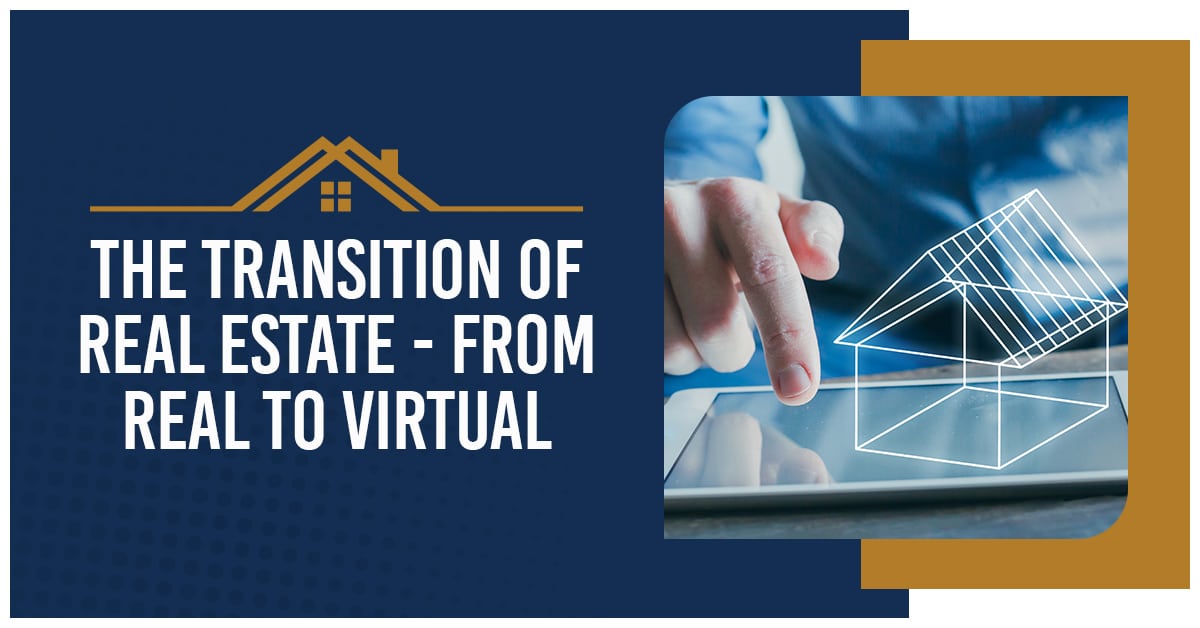 THE TRANSITION OF REAL ESTATE – FROM REAL TO VIRTUAL
Modern Problems Require Modern Solutions – this statement proves to be true in today's pandemic struck world where the best of the world comes to you at your doorstep, or rather fingertips, thanks to digitalisation. It is a part of almost every sector – be it work from home, education, e-commerce, banking, retail, tourism, or real estate.
When the pandemic-induced lockdown forced businesses to shut down physically, they began to look for other avenues to reach out to their customers. It was here that digitalisation proved to be a silver lining.
While property portals have been around for more than a decade or so, buyers mostly preferred to visit the property physically, inspect the location, meet the developer/seller and sign the agreement. Property portals & real estate mobile applications were mostly used to narrow down the property search, view property pictures, and contact the developer & seller.
But, this is now a thing of the past. Pandemic introduced the 'new normal' – digitalisation. People have now got used to the digital way of life where they can get everything from pin to property in a click. If not completely, at least more than half of the real estate transaction process is conducted digitally. This includes virtual property visits, availing bank loans, online payments, documentation submission, the initial meeting with developers & sellers through video calls etc.
This is the buyers' side of the story, the dipping real estate sales and the pursuit to recover sales and to remain relevant developers & sellers are placing their bets on digitalisation & modern technology.
So, how is the digital transformation of the real estate industry taking place?
Promotion, eventually leading to sales:
Social media is a powerful tool that can help developers & sellers generating leads and converting them into buyers. Developers & sellers are striking while the iron is hot by strengthening social media presence. Aggressive organic & inorganic marketing on Twitter, Facebook, Instagram & LinkedIn is just one of the ways to bridge the gap between the buyers & them, and increasing their business.
Understanding buyer behaviour:
Developers & sellers are leveraging the power of the digital marketing funnel to zero down on their target audience by understanding their needs better concerning home buying preferences. Digital marketing funnel keeps a track of customers navigating the web pages. Properties are filtered as per the requirement to convert leads into sales.
Additionally, thanks to AI and Big Data, developers & sellers can accurately analyse customer behaviour, distinguish between hot & cold leads, thus saving substantial time, customer service costs, and understand buyer behaviour.
Harnessing the power of technology:
Building Information Modelling (BIM) is transforming how real estate projects are done. A 3D model-based software – BIM facilitates planning, designing, constructing & managing buildings for construction, architecture, and engineering professionals.
Chatbots are a great way for developers & sellers to stay connected with their potential buyers 24×7. Through chatbots, developers & sellers can offer handholding to customers through their entire property-buying journey, thus developing nurturing relationships & fostering sales growth.
Virtual walkthroughs or e-Visits are a thing now. Augmented Reality (AR) and Virtual Reality (VR) are proving to be a magic wand for developers & sellers. AR & VR provide a surreal home buying experience to home buyers. They empower potential buyers to take a tour of property virtually – anytime, anywhere without physically visiting it.
Making the most of this technology, Ashar Group too conducted virtual meetings and e-visits for its potential customers during lockdown which proved to be fruitful.
Shifting from conventional paper-based processes to digital documentation has resulted in nearly 10 times faster turnaround time in the overall sales deal. Digital documentation eliminates – long hours to prepare legal documentation of purchase agreement, loan processing and payments and human errors. The expense incurred for the storage of documents was massive for real estate players, digital documentation will reduce that and make it secure. Lastly, digital documentation makes it easy for consumers to purchase property in another city, state, or country.
To summarise, as the saying goes "The only constant in life is change." Digitisation – apart from being the silver lining in a dark cloud of the COVID-19 pandemic, is here to stay. Whatever the reason be – to enhance transparency, increase sales, ease the selling process, gain an edge, attract new buyers, or stay in touch with loyal customers – developers & sellers should continue to harness the power of digital technology even in the post-pandemic world. While doing so, they should not forget that old is gold, hence interpersonal relations or human intervention cannot be ruled out.
Disclaimer: The views expressed above are for informational purposes only based on industry reports and related news stories. Ashar Group does not guarantee the accuracy, completeness, or reliability of the information and shall not be held responsible for any action taken based on the published information.