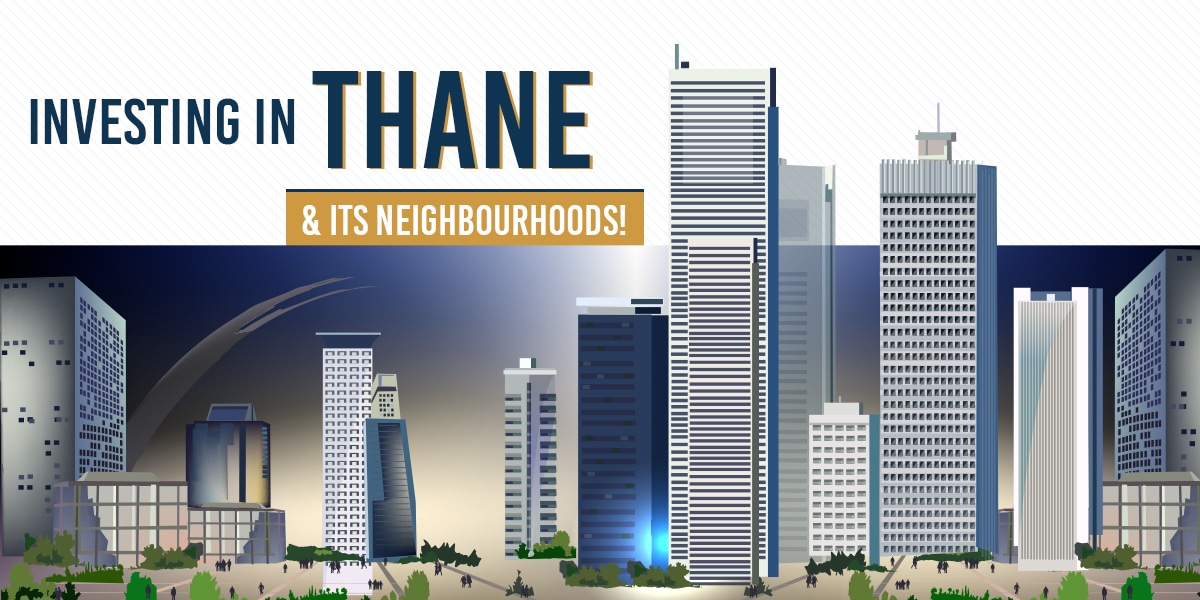 Real Estate Scenario in Nashik
Thane has become one of the most popular places for people to invest in real estate due to the abundance of greenery and open spaces. This area of the city, which stretches along the Ghodbunder Road, is self-sufficient in terms of essential services such as hospitals, schools, retail malls, job possibilities, and so on. The Mumbai Metro will soon connect the region, adding to the area's value. Another unique selling point of this location is its connectivity to the Eastern Express Highway, which provides signal-free transit to south Mumbai. Apart from this, it also has great connectivity to both the city and the new suburbs via the Central and Trans-Harbour railways. 
Mulund – the popular central suburb
Mulund, is perfectly located between Thane and Navi Mumbai and is a new real estate investment hotspot. It has emerged as an attractive destination for people who wish to be close to the city's hustle and bustle while living in a peaceful setting. Mulund is well connected to both the Central and Western regions of Mumbai. Its proximity to Lal Bahadur Shastri Marg, Eastern Express Highway, and Jogeshwari Vikhroli Link Road allows quick access to all the major areas of Mumbai. Residential complexes offer 1 BHK Flats in Mulund to its inhabitants with a comfortable and easy lifestyle, with excellent health care, educational, and banking services.
Ghatkopar – the sought-after central hub
Ghatkopar has become one of Mumbai's most sought-after neighbourhoods over the years. The cause for this can be linked to a slew of infrastructural projects in the area, which has resulted in an exponential increase in demand for residential units. Ghatkopar has grown in popularity across Mumbai as new businesses spring up and the Mumbai metro system makes commuting to the neighbourhood easier. Launched in 2014, the first Mumbai Metro line from Versova to Ghatkopar has brought a change in people's commute experience. With multiple other metro lines under operation, the connectivity from Ghatkopar to other areas is only about to increase. 
Ghatkopar West and Ghatkopar East are the two regions that make up the locality. Ghatkopar West is likely to see strong capital appreciation in the coming years, based on recent pricing trends and the variables listed above.  Along with solid connectivity and infrastructure, the area has seen a year-over-year increase in property values.
Ghatkopar East is home to numerous business and commercial facilities. Other significant business locations are also close by and are within driving distance. With numerous schools and institutions, this region has a well-developed social infrastructure. There are various modern hospitals that offer a variety of services. There are numerous places to be refreshed, including eateries, parks, and movie theatres. It's simple to get to the train station and airport from here. The location is one of the fastest-growing and has a very high demand from the general public for both residential and commercial uses.
Kalwa – Top Investment Opportunity
Kalwa is a well-developed area of Thane and has excellent infrastructure connectivity to major highways, IT Hubs and shopping and entertainment zones. This neighbourhood has a significant demand for residential dwellings due to its good connection and robust social infrastructure. Several well-known real estate developers are developing buildings and 1 BHK in Kalwa.
Dombivali – The High-Demand residential 
Dombivli is a northern neighbourhood notable for its inexpensive housing complexes, which include a mix of residential, commercial, and industrial assets. The neighbourhood has a high demand for residential properties due to its proximity to IT parks and industrial centres. Dombivali is served by the Mumbai suburban train network, which connects it to Mumbai and Navi Mumbai. The neighbourhood has a bus system that connects it to other Navi Mumbai areas. Furthermore, Dombivli is close to and connected to employment centres in Dombivli, Navi Mumbai, Kalyan, Bhiwandi, and Mumbai's industrial and commercial districts. 
Kalyan – A self-sufficient hub
Kalyan is another self-sufficient hub in Thane, with all necessary services such as schools, commercial complexes, and entertainment hubs. Many residential projects are in the works in the neighbourhood, all of which are being developed by local developers. Kalyan is a residential area close to Dombivli, recognized for its low-cost housing complexes popular with low-to-medium-income earners and first-time homebuyers. Schools, universities, banks, hotels, hospitals, and retail malls makeup for Kalyan's social and commercial infrastructure. There is robust public transportation infrastructures, such as KDMT buses and the forthcoming metro train between Thane, Bhiwandi, and Kalyan. Furthermore, Kalyan is adjacent and well connected to the industrial and commercial districts of Dombivli, Thane, Bhiwandi, Ambernath, and Ulhasnagar, attracting workers from these areas.
As real estate develops further in the city, Thane and its neighbouring areas are gaining popularity amongst first-time buyers. Multiple factors contribute to the emergence of this locality and the inhabitants settling there. Developing infrastructure, good connectivity, social amenities, and multiple other reasons have attracted prominent builders to Thane and its neighbouring areas.