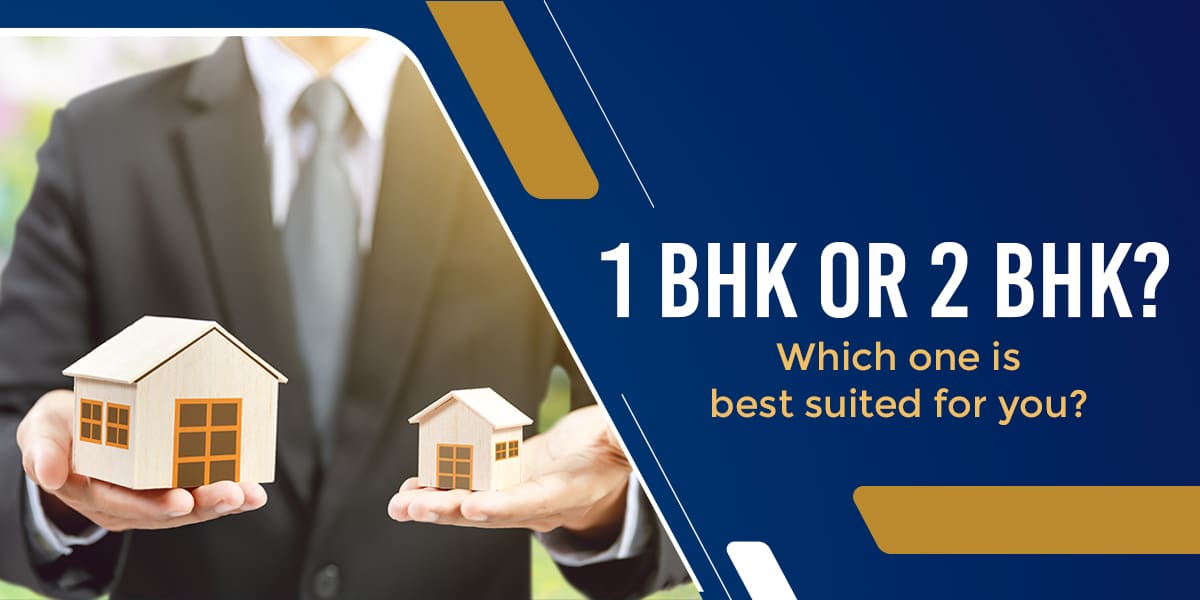 Real Estate Scenario in Nashik
As the urban lifestyle and pace evolve, our choices and approach to everyday life also keep evolving. One of the best examples of this is the concept of a nuclear family and the way they function and keep up with the changing pace of life. Many people are perplexed when it comes to deciding whether to buy a 1 BHK Flats in Thane or
2 BHK Flats in Thane
. The 1 BHK vs. 2 BHK unit dispute is typical among budget-conscious homeowners, particularly first-time buyers looking for a small family home or a bachelor pad. However, deciding between the two possibilities will be difficult. You'll have to think about things like property pricing, location, builder, and space, among other things.
Making plans for the future
A 1 BHK may appear to be the right balance of cost and coziness as a beginning house. Buying a house, on the other hand, is a long-term investment. You may believe that a 1 BHK apartment is sufficient, but if you wish to grow your family, it may become crowded as time passes. A 2 BHK flat, on the other hand, provides adequate space for a nuclear family to live comfortably.
The size of your family is one of the most important factors to consider while selecting the appropriate flat size. For a family of more than five people, a two-bedroom apartment may not be the best option.
People nowadays are opting for a three-bedroom flat if their family consists of three individuals and they have a sufficient budget for the three-bedroom flat. Even if your household is only two people, but you have frequent and recurring visitors, you will require an extra room. In this instance, the best option is a two-bedroom house.
A two-bedroom apartment is great if you're a bachelor or have a small family. Because the demand for 2 BHK homes is usually higher, builders give special attention to the design and construction of these homes.
As a result, 2-BHK homes have more facilities and design alternatives. As a result, you will typically find a larger and higher-quality 2 BHK property than its 1 BHK equivalents.
Also, due to the great demand for 2 BHK properties, it will be easier to sell if you are acquiring a home only for investment purposes.
It's no secret that the Indian real estate market is price-sensitive. Almost every buying decision is influenced by the cost. If you have a small family or live with your parents, a two-bedroom apartment is a better alternative to satisfy your space needs.
The most crucial consideration in determining the best house for you is your budget. According to research, a 2 BHK flat is cheaper than a 1 BHK flat in terms of the space ratio and the money.
The pandemic has been one of the most significant factors in recent times.If you have not been financially affected by the pandemic, then opting for a 2-BHK would be ideal. If your budget is limited because of pandemic concerns, then 1 BHK flat is the best option.
As a result, if you take out a home loan to purchase the property, you may still afford a large apartment while still fulfilling your other monthly responsibilities.
Maintenance is one of the most important considerations when determining the appropriate size for your dream home. In terms of absolute costs, 1 BHK flats are less expensive to maintain than 2 BHK flats. 1 BHK flat is the best option for you if you want to acquire a property that is low on maintenance. Furthermore, by paying a higher maintenance cost, you obtain a larger carpet surface, which is a sensible investment decision.
To summarise, you can choose a 1 BHK to be your new beginning or a 2 BHK to be your space saver.
1 BHK – Your new beginning
Ideal for a newly wed pair
Perfect for first time buyers with limited budget
Good investment option for first time buyers
2 BHK – Your space saver
Suitable for a growing family
More space enhances the elegance and allows to host family and friends
Offers plenty of space and a high return on investment
When purchasing a home, you can now select between the two alternatives. Ashar Group offers thoughtfully designed 1 & 2 BHK apartments to match and suffice your needs, taking into account both sides.
So, choose the right one and reserve your ideal property right now! Take a look at these fantastic homes offered by Ashar Group in Thane and MMR.