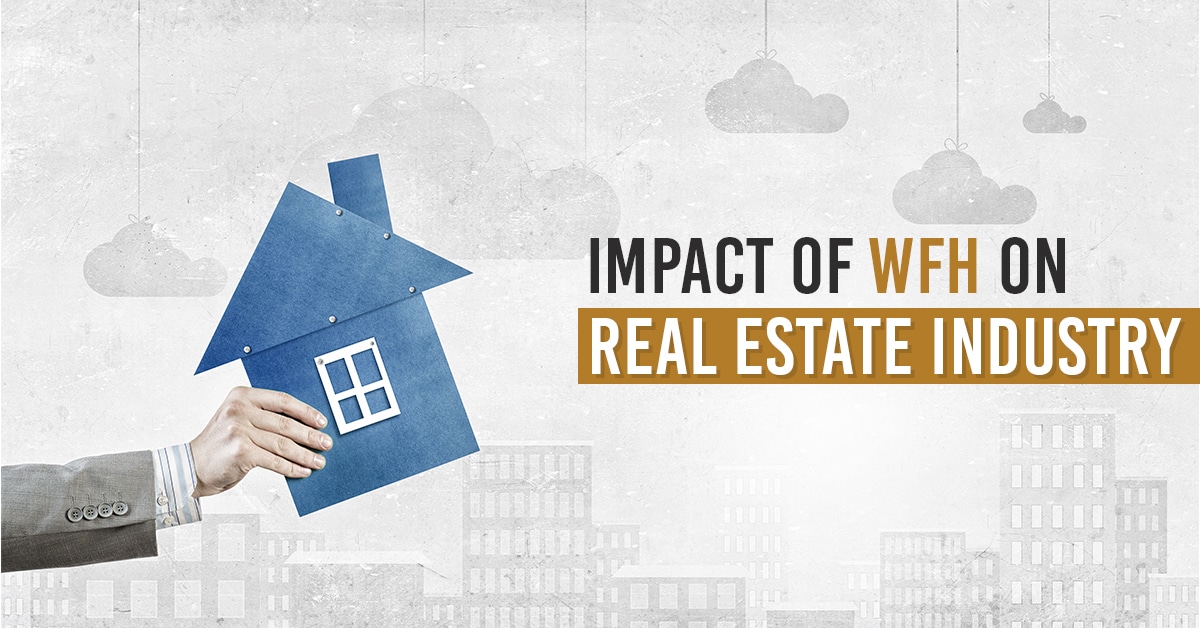 "The Only Constant in Life Is Change."- Heraclitus. But the change that COVID-19 brought in our lives – no one saw it coming. Hygiene & safety became an utmost priority, and the pandemic-led lockdown turned our homes into everything from a restaurant & office to garden & temple, from a gym & shopping mall to a cinema & a recreational centre. This change in the meaning & purpose of a 'home' radically transformed the real estate market – residential, commercial and vacation homes.
Impact on Commercial Market

The Commercial Real Estate market witnessed both risks and opportunities:
There was a decline in demand for commercial spaces
There is a rise in demand for co-working spaces
There is a rise in demand for spacious & open commercial spaces, considering physical-distancing
There is a boost in subleasing powered by companies with longer-term leases
Work from home (WFH) gave rise to another concept known as 'workation'. Many organisations introduced the workation concept which empowers professionals to mix business with leisure.
Workation turned the tables for the market for vacation homes. The growing number of the middle-class, higher middle class, NRIs and HNIs began exploring vacation homes in their country, within driving distance of metros – in smaller towns and nearby holiday destinations such as Nasik, Lonawala, Alibaug, Karjat, Goa, Panchkula, Kasauli, Shimla and Dehradun among others.
Workation was a win-win situation for employers, employees & the real-estate market. As for the employers & employees, workation facilitates living and working from vacation homes for long durations, without compromising on work or family life.
For the real-estate players, the sale of vacation homes & in turn profitability went up. Striking while the iron is hot – developers started offering competitive prices. This fuelled by low-interest rates on home loans by financial institutions, second-home & vacation home became the preferred choice of investment for travel-savvy professionals who earlier enjoyed annual holidays.
Impact on Residential Market
Work from home (WFH) has overshadowed the previous 'gold standard of Indian housing – the walk-to-work/short drive to work. This has led to future homebuyers shifting to the peripheral areas in search of bigger homes and a better lifestyle – at more affordable prices.
Understanding that the work from home (WFH) is here to stay, the millennial generation – who are the future homebuyers have a new-found preference for buying rather than renting homes.
They are now preferring to live in more spacious and cost-effective homes in less central areas. This new demand has dictated fresh supply.
Affordability and Price Quotient
Apart from changing real estate consumer preferences due to work from home, affordability has played an important factor in the shifting & rising demand towards residential property purchase in peripheral areas such as Thane & Mulund.
The cost analysis of real estate in MMR is as follows:
In MMR (Mumbai Metropolitan Region), the average price for a standard 1,000 sq. ft. property in areas within city limits is approx. Rs 1.85 Crore, against Rs 55.35 lakh in the peripheral areas – a 70 per cent cost difference. Micro-markets within city limits included Andheri, Vile Parle, Goregaon, Malad, Kandivali, Chembur, Wadala, Ghatkopar, Vikhroli, Powai, Mulund, etc. Peripheral areas include Kalyan, Bhiwandi, Dombivli, Mira Road, Vasai, Virar, Thane beyond Kasarvadavali and Owale Panvel, Ulwe, Taloja, etc.
The average monthly rent for a standard 2 BHK home in areas within city limits is approx. Rs 45,800, against Rs 12,500 in the peripheries.
All in all, the work from home (WFH) culture popularised by the COVID-19 pandemic has proven to be a mixed bag for the real estate sector.
Disclaimer: The views expressed above are for informational purposes only based on industry reports and related news stories. Ashar Group does not guarantee the accuracy, completeness, or reliability of the information and shall not be held responsible for any action taken based on the published information.