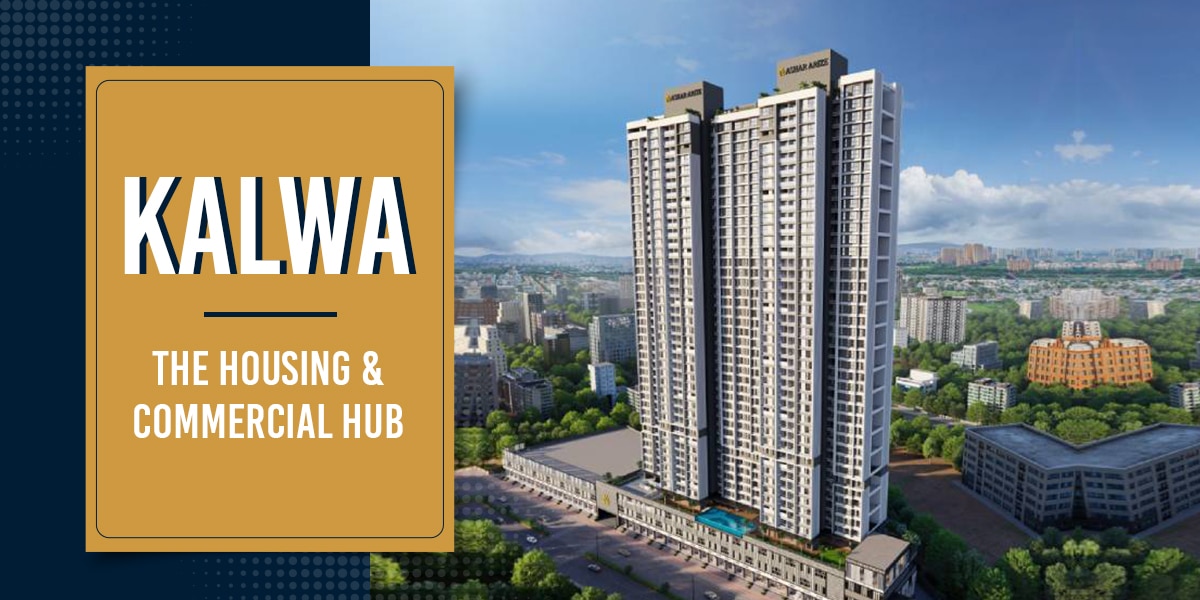 Kalwa: The Housing & Commercial Hub
Thane, a satellite city, has seen significant population growth recently and is actively developing new housing and employment opportunities. Initially known for its growth in the commercial sector, Kalwa has progressively developed into a good residential location. The area has everything in place that gives it an advantage over its surrounding neighbourhoods, from strong social and civic infrastructure to seamless connection ties.
Geographically speaking, Kalwa is located northeast of Mumbai and is governed by the Thane Municipal Corporation (TMC). Additionally, Kalwa's commercial expansion has been amplified and the stage has been set for residential development in the area thanks to the direct connection to Navi Mumbai via Belapur Road.
With more growth, there will be a 30–40% increase in commercial construction in Kalwa during the next few years. The clear metro corridor that TMC plans to build to connect Mumbra and Kalwa to Thane and Mumbai would also alter the local real estate market dynamics. Growth would be seen in both residential and commercial projects.
The connectivity of this suburb to other urban commercial and residential nodes is its most notable feature. The Eastern Freeway and National Highway (NH) 48 have shortened the distance between Kalwa and the various centers of the Mumbai Metropolitan Region. Additionally, the region offers easy access to Mumbai Central railway station and Chhatrapati Shivaji International Airport, both of which are 27.7 kilometres away. The distance from Kalwa to Kolshet Industrial Area is only 5 km. It offers simple access to numerous IT/ITeS majors in Thane and Navi Mumbai.
Kalwa is currently in a good place because of the extensive infrastructure transformation. These infrastructure developments have led to multiple recreational places such as coffee shops, arcades, biodiversity parks etc. Along with the best healthcare facilities, schools and institutes. All these facilities make 1 BHK in Kalwa the most preferred choice.
These facilities have also invited many notable builders in the locality. One of the largest developments in Kalwa is by Ashar Group. Their latest offerings of new projects in Thane are premium residential 1 & 2 BHK apartments – Ashar Aria and Ashar Arize. These residential projects in Thane are situated in great locations, well planned and have the best to offer.
What's in the pipeline for Kalwa?
A proposed elevated rail line would run between Airoli Station on the Trans-Harbour Line and Kalwa Station on the Central Line.
There are plans to build a metro light in the area, improving connectivity with Thane City.
A 550-metre skywalk connecting Vitawa in Kalwa with Thane Station is being considered.
Residents' commutes would be easier because of a planned route connecting Atmaram Patil Chowk and Kalwa.
Traffic congestion in Kalwa would be lessened by the forthcoming Kharegaon bypass route.
Plans to build a Kalwa educational complex that would provide primary through higher education
As of July 2022, the average property price in Kalwa is between Rs. 10,000 and Rs. 15,000 per sq. ft. There are numerous possibilities in the region that fall within the inexpensive price range. 1 BHK in Kalwa makes up over 65 percent of the homes, with costs ranging from Rs 60 lakh to Rs 90 lakh.
Additionally, the popularity index of Kalwa has increased due to the rising rental housing trend. Increased commercial expansion and rising demand for short-term housing have enhanced consumer confidence and attracted investors. According to the Mumbai Real Estate Report for January through March of 2021, the average rental price increased by about 10.5 percent between January and March 2018 and January and March of 2021. ₹21,000/month for 2 BHK furnished is the average rent per month in this locality. Affordable Rentals as compared to the nearby localities such as Mulund, Bhandup, etc.
Kalwa has gained enormous popularity in Thane thanks to better employment chances and connectivity, and the rising capital asks to support the buzz. The market is perfect for buyers who want improved capital returns in the future together with accessible, reasonably priced housing close to Navi Mumbai, Central Mumbai, and the Western Suburbs.
Ashar Group's projects in Kalwa – Ashar Arize and Ashar Aria are aimed at providing modern, and comfortable homes for buyers. Having an eclectic mix of modern amenities but retaining peaceful surroundings, Ashar Group provides residents with only the best.